Day three brings one of my personal favorites when I want something hot and different, Lexxie Couper puts her own spin on romance
.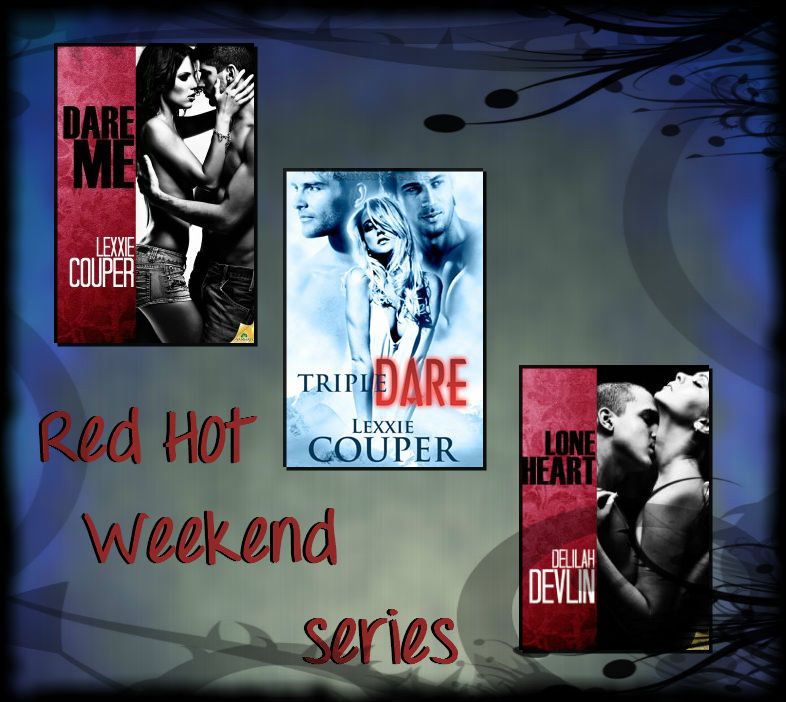 Book Summary for Dare Me
Defying death is the ultimate dare. Defying love? Well, that's just stupid.
A Red Hot Weekend story.
Back-to-back medical degrees took Emily Knox right where she planned to be: treating patients in an alternative cancer clinic. But nothing prepared her for a cocky, cheeky Aussie who strode into her life and dared her to cure him. She told herself it was his challenge she couldn't resist—not his daredevil charm.
Eight months later, Rob's out of danger…and Emily's in trouble. She's in deep, too deep. Worse, Rob has left the clinic against doctor's orders. There's nothing for it but to follow him across eleven thousand miles of land and sea to give him what for—as his doctor, of course.
Rob never expected to survive the brain tumor. Nor did he expect to fall head over heels for his very proper, very English oncologist. The problem? Her Hippocratic Oath hangs between them, keeping her just out of reach. Now, with "cured" on his medical chart and his duty as best man for his best mate calling, he takes off for home to start getting his old life back.
Trouble is, while the good doctor cured his cancer, she seems to have inflicted him with something else—desire he just can't shake.
Product Warnings
Rob Thorton is addictive. Also, there's scorching passion, undeniable lust, soul-shattering desire, heartbreaking angst, explosive sex and of course, Australian sarcasm. Did you really expect anything else?
Book Summary for Triple Dare
Two men, one woman, one momentous dare.
A Red Hot Winter story.
Serious and determined, Joseph Hudson isn't Australia's businessman of the year for nothing. So now he's asking himself, how did he get lost on the side of a mountain in the Colorado Rockies—in the middle of winter—with night fast approaching? Three simple words. I dare you.
Fear isn't in Rob Thorton's vocabulary. Life is for the taking, and Rob uses both hands. Challenging his best mate to take an impromptu snowboarding trip to the U.S. is just the latest in a lifetime of dares. Besides, he has an ulterior motive for the trip. And a plan…
Park Ranger Anna McCarthy knows what trouble looks like, and it's written all over the two Aussies she first encounters in the ski lodge. Instinct has her following them onto the mountain, and sure enough, they end up needing her winter survival expertise. But not even her skills can stop her body from responding to the sexy muscles she finds beneath their ski suits.
Stuck in a remote cabin until the storm passes, the temperatures rise until all bets are off. And a double dare turns into a triple threat—to their hearts.
Product Warnings: Contains lots of scorching boy on girl on boy action, a heroine who knows what she wants and two sexy-arsed Australian heroes to really work up a sweat over. Oh, and a soul-deep love story with a revelation that may make you cry.
Book Summary for Lone Heart
When temptation catches fire, saddle up and hang on for the ride.

A Red Hot Weekend story

Lone Wyatt is a long way from his Colorado home. After his brother married the woman they both loved, he figured it'd be best if he was out of the way. He'd like to have his own one-and-only, but he's in no rush. Until he saunters into a small Oklahoma town and spots Charli Kudrow. One wary glance from her haunted eyes, and he knows there's hidden fire inside her just waiting to erupt. And he's ready to tear through every objection she can think up.

Charli intends to slip out of Shooters unnoticed as soon as she's done pinning a help wanted notice to the bulletin board. But there's a cowboy at the bar with a killer smile who seems hell-bent on seducing her. And she feels something she hasn't felt in five long years of widowhood—a spark of attraction. Thinking she'll never see him again, she succumbs to temptation, only to discover that little "spark" is more like a raging wildfire.

One weekend is all he asks. One weekend to prove there's more between them than just blazing hot sex…
Product Warnings
Sometimes, love happens in an instant, but it takes a lot of sexin' up to make one stubborn woman a believer.
One person will win an ebook from Lexxie's backlist and a packet of Tim Tams. US/INT giveaway
Lexxie Couper started writing when she was six and hasn't stopped since. She's not a deviant, but she does have a deviant's imagination and a desire to entertain readers with her words. Add the two together and you get erotic romances that can make you laugh, cry, shake with fear or tremble with desire. Sometimes all at once.
When she's not submerged in the worlds she creates, Lexxie's life revolves around her family, a husband who thinks she's insane, a indoor cat who likes to stalk shadows, and her daughters, who both utterly captured her heart and changed her life forever.
Having no idea how old she really is, Lexxie decided to go with 27 and has been that age for quite some time now. It's the best of both worlds – old enough to act mature, young enough to be silly.
Lexxie lives by two simple rules – measure your success not by how much money you have, but by how often you laugh, and always try everything at least once. As a consequence, she's laughed her way through many an eyebrow raising adventure.
Contact Lexxie at

lexxie@lexxiecouper.com

or follow her on

Twitter

.
#1 "You're her Aussie cowboy," the woman continued, as if Dylan hadn't said a thing, her gaze taking him in again, her eyebrows knitting in a slight frown.
BOOKS AVALIABLE AT:


http://www.inlinkz.com/cs.php?id=172955">






http://www.rafflecopter.com/rafl/display/f257901/
" rel="nofollow">a Rafflecopter giveaway