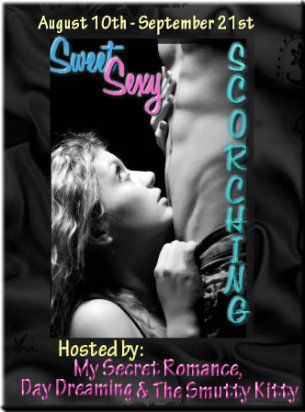 Welcome to Week three of the Sweet, Sexy Scorching Blog Hop. We have some great excerpts coming your way, from some of my favorites. This week's line-up will include Jamie Davenport, Liz Crowe, Crystal Jordan, Lucy Felthouse, and the inimitable R.G. Alexander. So Sit, stay and visit, and enjoy the heat provided. But first, an announcement from our fearless leaders, Taryn, Dawn and Kelly.
Thank you to all the readers, authors and bloggers who have followed the hop and participated this week! Please make sure you stop back next week too. There will be another week full of winners and you can enter the grand prize again.
Winners for week two of the Sweet, Sexy, Scorching Giveaway Hop-
Carol L. (from My Secret Romance) is Lisa Renee Jones' winner of candle and ebook/paperback
Allie (from Close Encounters with the Night Kind) is Jayne Rylon's winner of Red Light District series
Mel Bourne (from Swept Away) is Cristal Ryder's winner of Hot Fusion
Shannon from (from House of Millar)

and Joanne B. (from Black Ravens Erotic Cafe) are Cari Quinn's winners of $5.00 gift cards
Maria D. (from My Little Odd World) is Leah Braemel's winner of choice of ebook from backlist
Now, back to our regularly scheduled hotness!!
Here is something just a bit different for you: a deleted scene from Jami's book Fourth and Goal the prize she is offering
From Chapter 22—Tripped Up
Derek Ramsey was all talk. Mitch should have known better. Of course, the wide receiver had faked cooperation in front of Rachel. He wanted to get in her pants. Shit, the asshole already was in her pants. Who the hell was he kidding?
He clenched his fists at the thought of the jerk using his sister like that. No way did his little sister know the score. She was too inexperienced with guys. She believed she controlled the situation and would get Ramsey to spill his guts eventually. Mitch figured the only thing spilled would be his sister's heart, pureed and dumped on the sidewalk.
When two weeks passed and no Derek, he debated on asking Rachel but decided to keep his mouth shut. If Derek needed to be reminded, to hell with him. The Jacks had won two more games, and Derek had been outstanding. Most likely the attention was going to his head, and not for the first time.
Mitch glanced at Ryan, slumped in his wheelchair on the field, while his team spilled onto the field for practice. The kid faded a little more every day. Last week, he'd stood on the sidelines and watched the team practice for minutes at a time before he needed to sit. This week, he had a hell of a time walking from the locker room to the field. He'd been forced to use a wheelchair at times, like today. Mitch swallowed a huge lump in his throat and swiped a hand across his face. His face ached from the iron control he exercised over his expression. Be strong, he told himself, for Ryan and for the team.
Shit, he'd beg the asshole to see the kid if it'dp ut a smile on Ryan's gaunt face.
At least he hadn't told Ryan that Ramsey might visit. Not good to get their hopes up for nothing. His coaches knew about his conversation with the Jacks' star wide receiver, but no one else.
Mike, his buddy and defensive coach, patted him on the back as the boys went through their warm-up routine led by Ryan, the honorary team captain, from his wheelchair. "Hey, at least you tried." Mike always read his mind.
"Yeah, I did." He still felt like crap, even with his team decimating every opponent in sight.
"He's busy. They're big news right now."
"Too big to mess with a high school kid who's nobody to him."
"You don't know what kind of pressure he's under. The Jacks are looking good. They're the hottest thing in town. Everyone wants a piece of him. Kids like Ryan are lined up around the Northwest to meet him. A guy can't do it all, no matter where his heart is."
"Yeah, I really wanted to do something for Ryan.He's such a trooper."
Mitch stalked to the edge of the field and concentrated on his kids. Undefeated, the press favored them to win a state championship even without Ryan under center. Regardless of their former quarterback's absence on the field, he'd been with them every step of the way, practice and games. His hawk eyes never missed a play, and he analyzed a game as well as any adult. The team dedicated their season to Ryan.
Mike followed him to the sidelines. "We've got a big one this Friday."
As if Mitch didn't know that. The biggest game of the season so far, two undefeated teams battling it for a spot at the top. Mitch nodded to his assistant, still distracted.
Mike read him as well as he read opposing team's offenses. "Why don't you ask your sister? She might be able to put some pressure on Ramsey."
"I might do that." Mitch frowned as Mike looked past him, distracted by something.
His friend's eyes grew big and a slow smile crossed his face.
"Holy shit." Mike nudged him and pointed toward the edge of the football field. "I don't think you'll need your sister's help after all."
Mitch turned his head, following Mike's gaze."Well, I'll be damned." Relief unwound some of the tightness in his body.
Derek Ramsey stood inside the gate surrounding the field, a duffel bag swung over one broad shoulder. Casually dressed in jeans, running shoes, and a Jacks pullover sweatshirt. He looked every bit the professional athlete he was, and Mitch was damned happy to see him.
Jami will be giving away a paperback copy of Fourth and Goal
a Rafflecopter giveaway