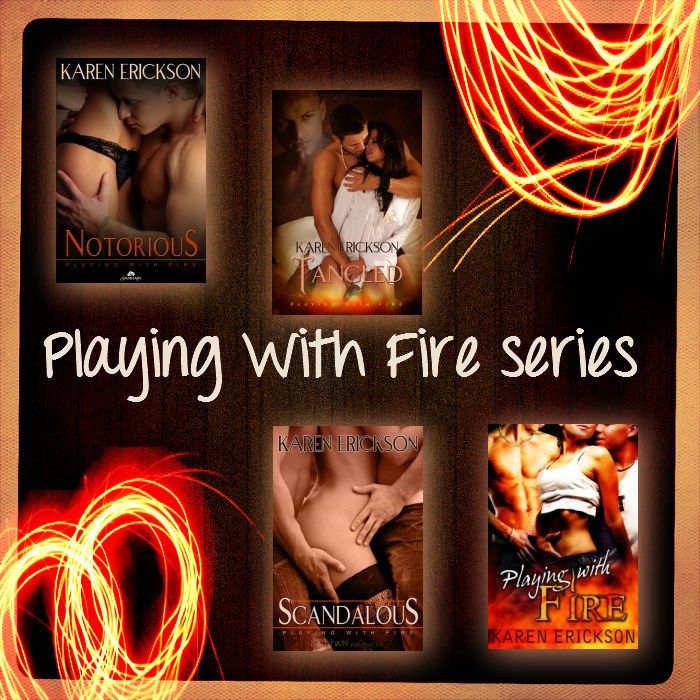 Scandalous
She always got anything she wanted…
Playing with Fire 2, Book 1
A teenage crush on her big brother's boyfriend. It was one of the few times in her spoiled-little-sister life that Alexa had to swallow the word "no". She got over it, or she thought she had—until her brother's wedding brings Eric back into her life, as flirty and fun as ever. It never mattered to her that he's gay. Attraction is attraction.
One illicit kiss, and their reconnection blows her mind and rekindles girlish hopes. Then he sets her away from him and runs like hell.
Eric can't believe that a woman's touch arouses him. Not just any woman, but sweet Alexa, and he can't help but want more. Desperate to come clean, he confesses all to his steady boyfriend, Brandon, expecting anger. But Brandon's intrigued. He wants to meet the woman who's tied Eric up in knots. With luck, maybe she'll relight the spark between them.
Alexa may have lost her chance with Eric, but the consolation prize—a fling with him and Brandon, is too tempting to resist. She never expected to love both men, or to secretly yearn to belong to the one who commands her body like no other…
Tangled
The girl can't help herself…until she helps herself to a triple-hot fantasy.
Playing With Fire, Book 2
Always wanting what she can't have. Scarlett learned this the hard way, and this time is no different. Drake, the one guy she's hot for, isn't hot for her. Nope, he's hot for Trevor, the gorgeous, arrogant actor she works with. Maybe it's time she let loose and let the right man capture her, for a change.
Trevor wonders why she can't see that the right man is right under her nose. He's crushing big time on the quirky, sexually confident Scarlett—a huge turn-on for a guy who's not your standard looking-for-vanilla-sex kind of guy.
When an argument with Trevor explodes into the hottest sex of her life, Scarlett thinks nothing has ever felt so right—until Drake joins in and kicks it into white-hot gear. Trevor is astounded that she trusts him enough to make her three-way happen for her. But suddenly he's not so sure he wants to share…
Karen will offer up a $20 gift card to Amazon or B&N, winner's choice.
I've always loved the written word. From being one of the best readers in my kindergarten class to penning romantic stories that never ended about my favorite band members (Duran Duran!) in high school, I always had a feeling I wanted to write. It just took me a while to seriously pursue it.
With the birth of my third child came a realization – it's one thing to talk about writing a book, another thing entirely to do it. So I decided to go for it and in 2005 I began my pursuit in writing toward publication. After completing a few clunkers that should never see the light of day, I was published in 2006. I currently write for Samhain Publishing and Carina Press.
On a personal note I'm a native Californian who lives in the foothills below Yosemite with my husband and three children, the dog and way too many cats.
Want to learn more about Karen? Go to her
FAQ
page.

http://www.inlinkz.com/cs.php?id=172955">
http://www.rafflecopter.com/rafl/display/f257901/" rel="nofollow">a Rafflecopter giveaway