That's what I'm talking about-give me Tall, Dark and Deadly every time! Rounding out week two with Lisa Renee Jones.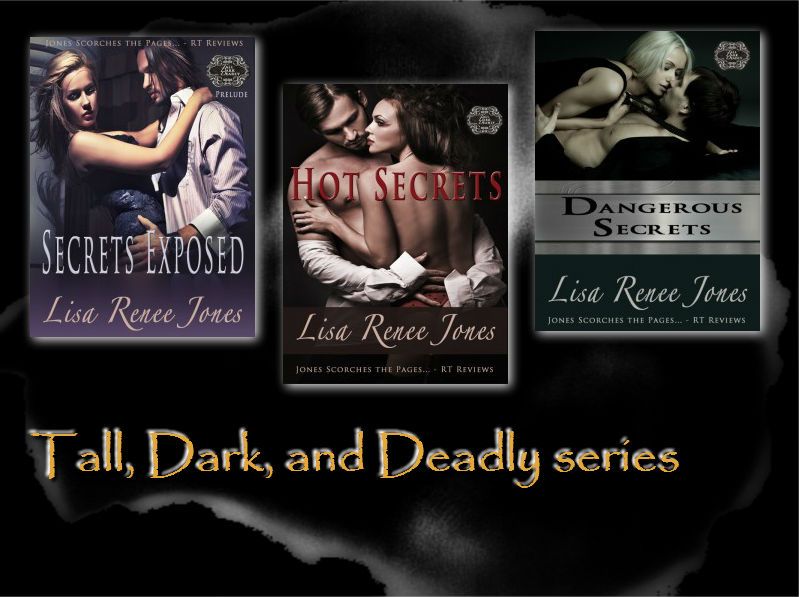 Book Summary for

Secrets Exposed (Tall Dark & Deadly #0.5)
Her enemy is her passion, her passion is her enemy… Lindsey Paxton was once the number one defense attorney in New York. She fought for those who were innocent, but charged. Her instincts were her lifeline, never failing her, as they guided her in her choices of who to defend. Or so she thought. Until she won a case she would forever wish to have lost. Her client, an accused rapist, kills and rapes a woman only a day after being set free. Destroyed by her role in the woman's death, Lindsey blames her father's controlling ways for what she has become, and runs from her career and life. Years later – the past becomes the present . . . Her father has cancer, and Lindsey is forced to leave her career with the Washington branch of the FBI. She finds herself facing the responsibility of running her father's law firm with the reluctant help of hotshot attorney Mark Reeves, a man who sparks her temper while also managing to tempt her heart. With his help she finds herself fighting the emotional battles of the past, tempted to trust both him and her instincts. Now, faced with a case inherited from her father so similar to her career-ending one, she now must decide if her instincts will lead her down the path to saving an innocent man or setting free another killer. But while she fights her own battles, someone watches, wanting from the past what he had failed to get the first time . . . Lindsey.
Book Summary for Hot Secrets

(Tall Dark & Deadly #1)
THE HERO: Royce Walker—the oldest Walker brother and a former FBI Negotiator. The silent type, Royce urges others to talk, having learned there are far more rewards from listening than running his mouth. When he does speak, he doesn't hold back, his opinions made readily available. He can be abrupt and tough, overbearing even. But none of this stops women from seeing the appeal of his rock hard six-foot-three frame and long, dark hair.
Royce Walker, a former FBI Agent, who's opened a private security firm with his brothers, has always had the hots for the prim, proper Assistant District Attorney, but considered her hand's off because of a family connection. However, when danger threatens Lauren, he isn't willing to stand by and watch her get hurt. Now the passion for survival is only rivaled by the passion burning between them. And that passion, might just be the death of them both.
Book Summary for Dangerous Secrets

(Tall Dark & Deadly #2)
THE HERO: Luke Walker—the middle Walker brother and a former Navy SEAL. He is the chameleon, able to get along with anyone, able to fit in anywhere. Growing up as the middle brother, Luke was always the one who kept peace between siblings, instinctively knowing how to calm tension. When he joined the
Navy SEALS, he found his steady, easy going, personality a tool under pressure. He liked the structure within the SEALS, the way the team resembled the family unit he once had been with his brothers and parents. Soon Luke became a leader, not just a fighter for the SEALS, but an injury stole his career and forced him to rethink his future. He took the change in stride, just as he does life. Now he's home, playing mediator to his brothers again, and loving every minute of it. Still, he clings to his SEALS roots, and he's more conservative than his brothers, very regimented. He wears his hair short and keeps his workouts intense. He is ready and waiting for the next place life will take him.
Being a divorce attorney for the rich and famous isn't all it's cracked up to be. Julie Harrison has learned that love doesn't last, and she's sworn never to make the same mistakes as her mother, or her clients. She uses the games men play to keep them at a distance. The only man who managed to break down her walls was Luke Walker, a Navy SEAL who loved her and left her, and changed her forever. When Luke arrives back in New York, running Walker Security with his brothers and having left his Navy SEAL days behind, he sets his sights on Julie, the woman he's always wanted and couldn't have. Except, she runs from him every time he gets close. But now, one of Julie's clients, a powerful judge, gets involved with a dangerous cartel, and his soon-to-be-ex wife ends up dead. Julie's next on the list, and she finds herself on the run from those who believe she knows too much, and counting on Luke to keep her alive. In the deepest, darkest moments of the night, passion will bring them together while danger threatens to tear them apart. Can Julie and Luke trust each other and find their happy ending before they find … the end?
Book Summary for Beneath the Secrets (Tall, Dark & Deadly #3)
RELEASING October 15
THE HERO: Blake Walker—the youngest Walker brother and a former ATF agent. He grew up resenting Royce's way of always taking control. As a teen, he felt Royce always shined above everyone else, and he silently competed against him, then rebelled. Blake developed a love for fast cars and faster women. Later, he turned his attention to danger and intrigue. Joining the ATF, he prided himself in doing what no one else could. But when a woman—another agent—finally stole his heart, he was ready to settle down. Then she died, killed during a mission. He resigned from the ATF, left his career behind him, but not his desire for revenge against the criminal who killed his woman. Working with his brothers now is well timed. It gives him time to find his target, to find his revenge, to decide his next move. But one thing is for sure. His revenge will come.
Lisa Renee Jones is giving away a large r
ose scented Yankee Candle that smells so good and a copy of any of her ebooks or a print copy of her new Blaze FOLLOW MY LEAD -- readers choice to one person.
http://www.inlinkz.com/cs.php?id=172955">

a Rafflecopter giveaway