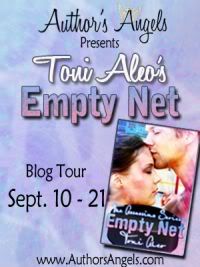 As a long time hockey fan (and one time very amateur player) I absolutely love hockey romance stories. I was delighted to be able to read this book of Toni Aleo's, and just wish I had known about these earlier. I will definitely be picking up the rest of these when the budget allows. Although this blog is the last stop on the tour, I will most certainly post the complete itinerary so folks can go back and see other posts with interviews and such.



Definition of an Empty Net:

When a team pulls the goalie for an extra attacker, desperately seeking a goal.





Audrey Parker was in a horrible place.




She hated her job, her sister was getting married and moving out, but worst of all, she was in love with a total jerk. No matter what she did, every guy she met hurt her. All she wanted was her happily ever after. Her Prince Charming. Her Lucas Brooks! She didn't know how to change her life but she knew she needed too.




Feeling like she was about to hit rock bottom, Audrey wakes up next to Tate Odder.





Tate Odder had lost everything.




After being brought up from the Assassins' farm team, the Florida Rays to the Nashville Assassins, Tate hopes he'll forget everything he has lost. He doesn't. Each day gets harder to live in a place he doesn't know. Even being the first rookie goalie to shut out an opposing team three times during the Lord Stanly Cup Finals, he still felt

empty

. With the loss of his parents and sister still heavy on his heart, Tate isn't sure how to live like everything is okay.





But when he wakes up beside Audrey Parker, things start to change. She turns his life upside down with her kooky sense of humor and her bright clothing. She is intelligent and beautiful, and for once, he doesn't feel

empty

.




Will Audrey be the person to fill the holes in Tate's heart, making him whole again?




Or will another player ruin everything, leaving him feeling forever like an

empty

net

?
Toni Aleo has written a fast paced and very hot story, with many of my favorites in it. I am a fan of older woman younger man stories, and this certainly fits my tastes there, but it is so much more. The characters in this are all very well crafted, and whether you like them or hate them, they feel like people you could meet on the street or in your neighborhood. I love it in a story when the characters aren't these wonderfully perfect people, and I liked that both Audrey and Tate were, to some extent, flawed: each with secrets they kept from each other, holding back that one small piece of themselves.
Audrey has some serious self esteem issues early in this book, and I enjoyed watching as she slowly came to realize that she had worth and value, and didn't have to just 'settle' for what Levi was offering. I loved watching as she blossomed in her relationship with Tate, even if I did want to reach out and shake her once or twice. I think what I liked most about Audrey was her zest for life, and her determination to live life to the fullest, although it took her a bit of time to get there. When she, finally, reaches out to take charge of all the aspects of her life and make the changes that will bring her joy, I was delighted.
Tate is such a great character, patient and caring, and giving Audrey the time to learn what she really wants, and I loved him for being willing to be 'just friends' while she was sorting through her issues. I was a bit disappointed that he didn't feel he could share his secrets with Audrey, especially after everything else that they shared. And I loved his patience, and sense of humor, showing Audrey that age doesn't have to be a factor when two people love each other.
Of course, there is some screaming hot sex and s bit of danger in here as well, and there were times when this one brought a few tears to my eyes. But every time I'd tear up, this story would turn a corner and make me giggle out loud at the antics of these two. Once these two finally got comfortable with each other, the sarcasm and banter was a delight. Did I see the big scene with Levi coming? No, but it did become a pivotal point in the rest of the book, and it made the rest of this one very poignant and romantic. There are a couple of very surprising twists here, and I did not see one of them coming, but it was such a terrific turn of events.
I highly recommend this to any romantic sports lover out there, but do not read near any ice rink, as it will definitely melt the skating surface.
Now, as promised, the complete tour list.
EMPTY NET Blog Tour Schedule: