Today is a visit Down Under with one of my favorite Aussie writers - Jess Dee writes hot like you could cook on it!!!
And I've read both of the Fire books, and they are really great!!
Jess Dee lives in beautiful Sydney, Australia, with her husband, their two sons and their insane dog - a ridiculously overweight puggle named Luigi.
An avid romance reader since her early teens, Jess knew one day, when she grew up, she'd have to write her own love stories. It might have taken a while, but in December of 2005, she finally got "the call." Her first book, Photo Opportunity had been contracted. Now you can't hold her down. She's completed a whole host of books, and is finally doing the work she loves most— writing romance
.
Jess likes to set her stories in Australia. Have a look at the gorgeous images on the page, and you'll understand why it's so easy to find romance in this beautiful country.
My Website
International Heat
Down Under Divas
Bandicoot Cove
Heat Wave Yahoo Group
Follow Jess on Twitter
Friend Jess on Face Book
Jess's books are available at:
Amazon, B&N, Samhain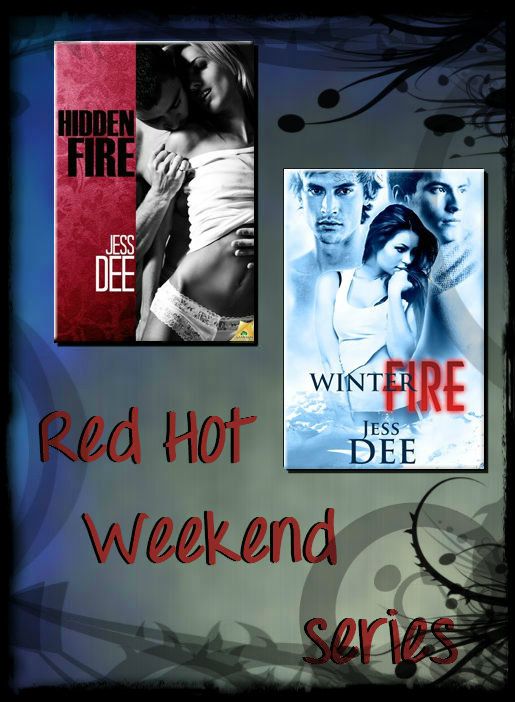 Dirty desires, dark secrets…deepest love
Hidden Fire
Fire, Book 2
Well, this is an unexpected twist. Jenna Brooks is all set to spend the weekend wallowing in misery, repairing the cracks in the façade she's maintained for twelve years. Instead she's…tied to a chair. Kidnapped by her own twin brother and her so-called best friend.
It's for her own good, they say. She'll thank them later, they say. But when they reveal her partner in captivity, she shores up her emotional barriers. It's Garreth Halt. The one man for whom she let her guard down. What a fool she was.
For one electrifying moment, Garreth had Jenna naked in his arms, on the edge of losing her legendary control. Could have kept her there forever, too, if he hadn't felt honor-bound to tell her the truth. Before she'd heard the whole truth, though, she'd retreated behind the fortress around her heart.
Now they're knee to knee, with no escape. While he's irritated he let his alleged best friend get the drop on him, a small part of him is thrilled. With one final chance to show her his love is real, Garreth methodically, wickedly, sets out to dismantle her defenses.
One dirty word at a time.
Product Warnings:
Garreth may have charmed you in Winter Fire, but this time around, his blatantly sexy demands, even sexier actions and heartwarming love for his heroine are gonna make you fall head over heels.
Copyright © 2012 Jess Dee
All rights reserved — a Samhain Publishing, Ltd. publication
Before he could step out of the doorway, something barreled into him, crashing into his chest, slamming the breath from his body, winding him.
That something threw her arms around his shoulders, grabbed his neck and held tight. So tight she crushed his chest. Stopped his heart. Prevented his blood from flowing through his brain. He couldn't breathe, couldn't think.
But then that's how he reacted every time Jenna Brooks came near.
Her scent assailed him, permeated his cells. Apple and mint, fresh and…edible. Instinctively, his arms came around her back, holding her closer, clutching her to him.
Christ, so tiny. So fragile. So exquisite.
Silken hair tickled his chin, the wind whipping silvery-blond strands across his face. He clasped his hand around her neck, holding her tresses in place. Her breath came in deep gulps, as though she'd sprinted a mile to get here.
His heart lurched. Was she okay? Usually she sprinted in the other direction, racing as far away from him as she could get. "Jenn?"
"Garreth!" She climbed up his body, hitching first one knee up to his hip and winding her slim leg around his waist, and then the other, locking her feet together behind his back.
Instinctively, he placed an arm beneath her ass, supporting her tiny frame, holding her closer, pressing her pelvis against his groin. She belonged there. She should always be there.
Ah, damn. Even winded from her attack and worried sick by her sudden appearance, blood emptied into the lower half of his body, making him instantly hard. "Talk to me, sweetheart."
A soft, seductive whimper escaped her mouth, whispered over his neck and sent tingles down his spine. She shifted, flattening her hips against his, pushing hard against his erection, molding herself to its shape. The groan she emitted was a carnal hum.
It took a second, no more, but Garreth saw stars.
Jesus, this was what he'd always wanted. Jenna, in his arms, snuggled up against him.
"Tell me what's wrong." He knew though. Knew what had her so distressed. He just hadn't expected this reaction. Hadn't expected her to run to him after hearing the news.
Garreth stumbled back into the chalet, kicking the door shut behind him. Her anguish needed no audience.
"He loves her, Garreth. He broke the pact." The words exploded from her mouth. She looked at him, but her eyes were unfocused, dazed even. "Wants to be with her. He's moving to Sydney for her. I let you go. Turned you away. Forced you to back off, and now he wants my best friend." The words were a jumbled mess, the explanation coming out in torrents.
Garreth considered interrupting, slowing her down, but couldn't. She spoke too fast, faster than he'd heard her speak before. Was she in shock?
"All this time I held back. Wouldn't give myself to you. Wouldn't betray Jackson like that. I let you go. But he's with Rachel now. The pact's over." Astonishment echoed through her words. "Gone. It's in the past." She gasped, stared blindly at him with her beautiful blue eyes. Was she seeing his face or something else? He couldn't tell. "I can be with you. We can be together, Garreth. You and me. Together."
And then her lips were on his, kissing him, her tongue probing entry into his mouth.
He'd seen stars before? Hell, comets were crashing into earth now. Jenna, in his arms, kissing him. Disbelief froze him in place—for all of about three seconds—before he kissed her back, wrestling for control, taking her mouth as he plunged his tongue between her lips.
She tasted like cream and sugar all wrapped up in one succulent treat. Her need—her desire—intoxicated him. He sipped from her mouth, drank from it like a parched man.
She'd come to him. After all this time. He couldn't kiss her hard enough, couldn't get enough of her taste, her mouth, her essence. Jenna was in his arms. She'd come willingly. Run to him. Thrown herself at him.
He paused for a maybe a second to breath, to look to the skies and thank God. The sun broke through the clouds, spilling its rays through the massive windows, catching her hair in its glow.
He would have thrown his head back and laughed, or maybe howled—the dominant alpha claiming his female. Would have, but didn't. Not if it meant foregoing a second kiss. Never. He was never releasing her mouth again. Never letting her go. He ducked in for another kiss.
The shackles of her past had finally been unlocked, releasing her. There was no longer anything keeping them apart.
Uh, yeah, there is.
God damned reality! Garreth didn't want to think about it. Didn't want to acknowledge it.
Real good, Halt. Deny it. Deny the existence of her boyfriend so neither of you need deal with the fact there's another man in her life. Deny the truth about your actions this weekend because you know if she knows you slept with her best friend—at the same time as her brother did—she'll walk away.
He couldn't hide the truth. He had to say something. But how could he explain? How could she ever understand why he'd done what he'd done?
Her kiss grew more urgent, her hands moved, found the hem of his sweater, pushed underneath. Her icy fingers sent shock waves careening over his back. Her bare hands swept over his exposed skin.
Chills raced up his spine, down again. Her touch drove him wild. Made him crazy.
Jess is giving away two books from her backlist to one winner.
a Rafflecopter giveaway