Welcome to week Five of the Sweet, Sexy, Scorching Blog Hop. This week starts out with another of my favorite authors from Down Under, Rhian Cahill. Rhian writes about shifters, but she also writes fantastic hot abd sexy contemporary stories with nary a shifter in sight. I happen to absolutely love the Hunger series and am happy to bring them to more folks' attention. But, before today's post begins, a word from our
sponsors, and the winners from Week Four.
Thank you to everyone who has followed the hop this week! Please make sure you stop back next week too, there will be another week of winners and you can enter the grand prize again.
We hope you all are enjoying this Guess Who hop!
Here are the winners from week four of the Sweet, Sexy, Scorching Giveaway Hop-
Sopelinda (from My Secret Romance) is the winner of Mari Carr's signed Dangerous Curves book
Slinkydennis (from The Smutty Kitty) is the winner of Meg Benjamin's ebook copy of Don't Forget Me
Mary M (from BlackRaven's Erotic Cafe) is the winner of Jess Dee's two books from her backlist
June M (from House of Millar) is the winner of S.L. Carpenter's choice of either Owned or Remember When
Joanne (from My Odd Little World) is the winner of either a copy of PG Forte's Edge of Heaven or any LA Love Lesson books, winner's choice, plus a set of Romance Trading Cards
I have not heard back from these winners:
Jayne Rylon winner of Red Light District series- Allie (from Close Encounters with the Night Kind)
RG Alexander winner of $10.00 gift card- Catherine Lee (from My Little Odd World)
Lucy Felthouse winner of $5.00 gift card- Kelly (from Lori's Book Blog)
Winners, please send an email to Taryn@mysecretromancebookreviews.com and she'll get your prize out to you.
Past winners, if you have not received your prize yet, please email me again and I will get it straightened out.
And now, back to our hot and sexy regular programming.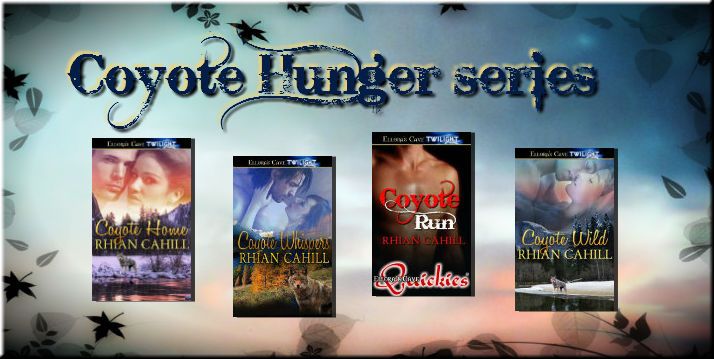 Available from:
ELLORA'S CAVE
AMAZON
BARNES & NOBLE
ALL ROMANCE eBOOKS
Also available in print - Coyote Hunger
Coyote Wild
Coyote Hunger Book Two
Brogan Wilder knows all about animal urges. As a coyote shifter, he's lived with them all his life but he's never experienced the bone-deep hunger Eloise Crawford elicits. Claiming a mate is one thing. Claiming one who's human and has no idea shifters exist is another matter altogether. In El, he's found his destiny. Now he just has to convince her they are meant to be together.
A visit to help her best friend with wedding plans seems like just the kind of relaxation El is after. But once she arrives, there's nothing relaxing about the reaction she has to her friend's brother. Suddenly her senses are on high alert and she's drawn to him in a way she finds nothing short of terrifying. But there's more to this man than his golden eyes and magical touch. There's something else. Something not exactly human.
Accepting her fate should have been the difficult part, but when El finds herself the target of an outraged pack member, the true struggle begins.
Excerpt~
The first thing El noticed was the pain lancing her side. She was lying on hard ground, sharp jagged edges digging through her clothes into her ribs and hipbone. The second thing she reacted to was the cold. She shivered as her senses came more awake. Moaning, she tried to move her legs and couldn't. Something held them together.
Her eyes popped open, her vision unfocused at first but as it cleared she took note of her surroundings. She also took note of the fact her ankles and wrists were tied together with rope. The quiet indicated no one was near and remaining perfectly still, she concentrated on listening for any clue she wasn't alone.
Nothing.
Not even the raspy sound of breathing.
She had no idea where he'd taken her or where he'd gone. The ground around her had been cleared of snow, small mounds of white sat in front of her and it covered the trees and shrubs in sight. A rock or stick dug into her thigh as she twisted to look behind her. The view was the same. He'd left her outside, in the forest somewhere.
Urgency grabbed hold. She needed to get away before whoever had taken her came back. El had no idea who the man was or what he wanted but the thought of him returning sent ice rushing in her veins and fear exploding in her gut. If he'd left her here, he'd meant for her to die alone. If not, he planned to come back. El didn't like either of those ideas.
Clouds covered the sky, blocking out the sun so she couldn't make out what time it was or which direction he'd taken her. The freezing temperature made her numb, but the rope around her limbs added to the sensation by cutting off her circulation. She wouldn't be able to get away with her hands and feet tied. How could she get free? The nylon cords were biting into her flesh and she hadn't tried to loosen them yet.
She needed to think, clear her mind of the panic and fear then work out a way to get untied and back to Rowan. El didn't know what had happened at the house but she was pretty sure the guy who'd taken her had hurt her friend. Had Brogan and Quinn come back from their meeting and found Rowan hurt and El missing? Were they out here looking for her?
Pain streaked up her arms and pulling them in front of her for a closer look took effort. Biting her lip to stop from crying out, El studied the knots at her wrists. It didn't look as if she'd be able to undo them. Her abductor hadn't been kind enough to leave her with a neat bow to loosen them. She pulled the ropes to her mouth and used her teeth to tug at dirt-covered fibers.
They didn't give and the movement rubbed the raw skin already circling both her arms. She needed something sharp. There was no hope of getting through the thick rope with her teeth. Frustration bubbled and a growl slid up her throat. Muscle and skin stretched and her teeth lengthened.
Her teeth.
With renewed hope, she brought her hands to her mouth and sank her coyote teeth into the knots. El gnawed at the ropes, felt them give a little. She could do this. Wiggling her hands and fingers to bring back the circulation, she bit down harder. One strand snapped, fell from her wrist. It gave her room to move and soon a second and third piece of rope fell away.
El breathed through the pain as blood surged back into her fingers. She shook her hands, clenched and unclenched her fists to try and ease the throb. She gritted her teeth and used her stiff arms to push herself up. The agony in her ribs eased but there would be bruises. The dull ache was manageable and she didn't appear to have suffered any other injuries. Her legs, numb and weak from lack of blood, hurt but she drew them up to examine her ankle restraints.
She was greeted with bigger and more complicated knots than the ones on her wrists. She growled and bent double, thanking her lucky stars for years of gymnastics and yoga. Flexibility had always been her strong point. Her back and shoulders ached as she stretched to reach the knots with her teeth. Sensing victory within her grasp, El ripped at the ropes with teeth as sharp as any knife.
Released August 26, 2011
Available from:
ELLORA'S CAVE
AMAZON
BARNES & NOBLE
ALL ROMANCE eBOOKS
Coyote Whispers
Coyote Hunger Book Three
"Doc" Gordie has tried to keep Steve McKenna at arm's length, but the sexy coyote shifter is under her skin, in her blood and in her heart. No matter how much she fears what he makes her feel, she can't bear to stay away. After he rescues her from a vicious attack, Gordie is helpless to deny the sizzling attraction burning between them.
There hasn't been a day Steve has not wanted Doc in his bed, but bruised and bloody is not what he had in mind. The need for revenge is riding his coyote—almost as much as his aching desire to finally claim Doc as his own. But that will have to wait. He must first convince Doc the safest place for her is by his side. When a second attack draws them together, suppressed needs explode, leaving no doubt where they both belong.
But danger is never far behind and Gordie is forced to make a fatal decision that could destroy all they've worked so hard to discover.
Rhian Cahill is giving away to two lucky winners the choice of any ebook from her backlist, including her two new releases!
a Rafflecopter giveaway