As we near the end of the week, I am sure we all need a brief boost to our hotness levels: I know I do, and Juniper Bell is really good at bringing the hot factor to the fore. First, a bit about the lovely and talented Ms Juniper Bell.
Hi, I'm Juniper Bell. Here's a little about me: I live in a cabin in Alaska, eleven miles from the nearest town. My sweetie and I are building a home here, which we hope will someday have running water. For now, the spectacular views of glaciers, the peace, the pure air, and the occasional visiting moose will have to do. I've been writing erotic romances ever since I left my high-stress life as a TV writer in Los Angeles. Quite a transformation …
… and that's what I like to write about. Transformation. Those turning-points in life that bring out the deep secrets we hold inside. Finding bliss by transcending the limits we've placed on ourselves. Freeing our true selves to be wilder, braver, more joyful. Everyone has a journey, and I write about those moments when the path takes an unexpected turn into sensual discovery. I believe magic happens when you open your soul and let sensuality transform you.
When my sweetie and I need a break from the frozen North, we go to the Big Island of Hawaii, where we're building a cabin that we hope will someday have electricity. For now, the beautiful views of papaya fields, the peace, the sweet tropical breezes, and the occasional visiting mosquito will have to do.
Thanks for stopping by. I love to hear from readers, so please feel free to email or follow me.
Facebook
,
Blog
,
Group Blog
,
Twitter
,
Goodreads
, E-Mail
Buy Juniper Bell's books at:
Amazon
Barnes & Noble
Fictionwise
Sony
Kobo
AllRomance Ebooks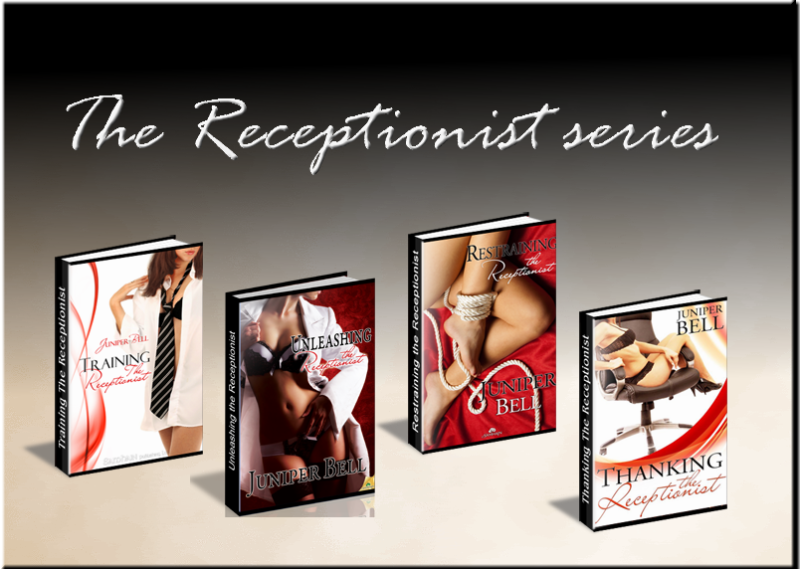 Training the Receptionist~
Book One, The Receptionist
It's her naughty dream job-if they're satisfied with her performance... Eager to escape her miserable existence in Low-Life, Long Island, street-wise Dana Arthur jumps at an entry-level position with the consulting firm Cowell & Dirk. As her training period begins, she quickly discovers she's required to do more than take messages and order office supplies. Her job description contains some deliciously naughty duties that give receptionist a whole new meaning.
Simon has almost given up on finding the right woman who will please his clients as well as his demanding partner and mentor, Ethan Cowell. No one measures up-until Dana. Her inner fire and fearless nature are perfect for the job. No matter what wicked punishment he devises to chastise her for her on-the-job mistakes, she accepts with a relish that leaves him wondering which one of them is really in control. The last thing he expects to discover is that she's a perfect sexual soul mate he can't bear to share. But share he must-it's part of his business agreement. Unless he makes Ethan the deal of a lifetime...
Warning: This title contains explicit sex, bondage, mnage, ingenious use of office furniture, lingerie, and the occasional sex toy. Oh, and did I mention the package delivery guy?
Restraining the Receptionist
Book Two, The Receptionist
Every deal has a loophole.
Dana Arthur's new job with the firm of Cowell & Dirk is going well. Translation: the occasionally kinky ménage with her two bosses, Ethan and Simon, has been several months of politically incorrect bliss.
Except the relationship feels unbalanced. While Ethan is the undisputed master, the partners' iron-clad agreement stipulates that Simon must be present as she performs her "duties". And she senses there's a subtle, powerful tug-of-war developing for more than just her body.
Simon had agreed to share the firm's fiery, sensually daring receptionist…to a point. With Simon out of town, Ethan plans a feast of erotic temptations designed to have Dana begging him to break the deal. He didn't realize his heart would be a casualty.
Once she surrenders to his wicked demands, Dana realizes there's no going back. It's time for a three-way renegotiation…this time, all or nothing.
Warning: NSFW!! Do Not Try This at Your Job. Contains highly inappropriate workplace behavior including m/f/m, m/m, bondage, creative use of office space and a high-stakes trip to Atlantic City.
Thanking the Receptionist
Book 2.5, The Receptionist
Dana Arthur has found the job of her dreams ... if her two sexy bosses are satisfied with her performance. On her very first business trip, Ethan and Simon intend to show Dana just how much the firm of Cowell & Dirk appreciates her.
AND COMING OCTOBER 30TH FROM SAMHAIN PUBLISHING
Unleashing the Receptionist
Book Three, The Receptionist
You can tie a girl up, but you can't keep her down…
In the year since Dana joined Ethan and Simon's firm, the three of them have found the perfect balance of power and pleasure in their three-way, work/play relationship. Not only that, but it's been the firm's most successful year financially.
Except something is missing. Her men won't tell her anything about their past. How they met, or how they formed such an unconventional business and personal partnership. Until they start sharing their secrets, Dana fears she'll always be the odd girl out.
Everything changes when a vengeful former partner resurfaces. Suddenly, both the business and their idyllic relationship are under siege. With a tax auditor watching their every move, the three must be on their best behavior.
Never one to back down from a challenge, Dana seizes the chance to prove herself—and finally win her sexy bosses' full trust and confidence. Now the race is on to root the evil nemesis out of their lives once and for all—before her dream relationship cracks under the pressure.
Warning:
Contains hot three-way M/F/M sex, highly inappropriate office behavior, a shocking secret, a kinky accountant and some really bad girl-on-girl porno reenactments.
Unedited Excerpt from UNLEASHING THE RECEPTIONIST – Book 3 – Coming October 30
Inside my place, Ethan marched me into the bedroom, lit only with a red nightlight.
"Do you doubt, for one second, how I feel about you? How Simon feels?" He shot the questions at me like bullets as he practically tore the dress off my body.
"No," I managed to gasp. "That's not it." But his hands were all over me and little fires of craving raced across my body.
"When something's perfect as it is, why stir up trouble?" He unzipped my skirt and slipped it off my body. I held onto his broad shoulder as I stepped out of it, one foot at a time.
"You know the most important thing I've learned in life, Dana?"
I shook my head.
"Take care of the people you care about. Take care of the people you can count on. Once you've found the people who won't betray you, treat them like gold. Because that's exactly what they are."
He stripped. The dim red light glinted off his massive arousal. If I hadn't already been turned on, the sight of that enormous erection would have done the job. He sat on the edge of the bed and pulled me onto his lap. My eyes half closed in sheer, horny bliss as he held my hips and slowly impaled me on his cock. The lips of my pussy stretched around his flesh, my inner muscles clenched at him. My head drooped onto his shoulder. The man completed me, filled me, chased all other thoughts from my mind.
"I want you to forget about everything but this. Everything but you, me, Simon and our glorious, magnificent fucking," he ordered me as he stroked my backside. I wriggled and sighed under his caresses, which made me sink even deeper onto his cock.
"Simon," he called as he rocked me back and forth. "Get that new toy I mentioned." Every time he shifted me, my clit piercing got pressed. With my face buried in his shoulder, I licked his skin. The mere scent of him excited me—it brought back so many memories of the ecstatic experiences he'd given me. If I could have burrowed under his skin I would have.
"I'm going to fill you up so there's no room for anything else. No doubts. No worries. No questions."
Juniper is offering up to one lucky winner the choice of two books from her backlist.
-
a Rafflecopter giveaway