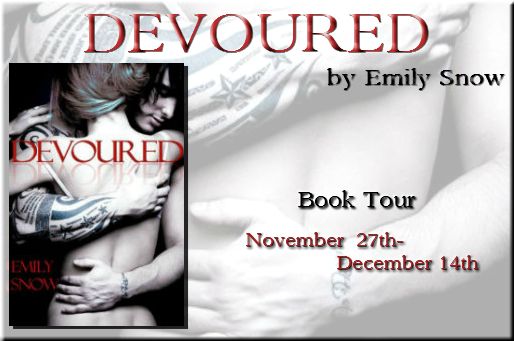 Today is the first of two stops in the Devoured Book Tour, with my interview with Emily Snow. Emily was nice enough to answer my usual questions for this, although not quite as long as I usually go. Emily will be giving away one e-book of DEVOURED at every blog stop. A grand prize of a $100.00 gift card will be awarded at the end of the tour to one winner. In order to be entered for the grand prize, the commenters will need to fill out the form.
First a very brief bio of Emily Snow, then on with the show.
A native of Southwest Virginia, I'm the 26-year-old author of the forthcoming DEVOURED series (2012) and CONFESSIONS OF A FRAT GIRL(2013). I love books, sexy bad boys, and really loud rock music, so naturally, I write stories about all three.
What is the best thing about being a writer? The worst?
The best thing is definitely all the incredible people I've gotten to meet since publishing Devoured. I've found that the romance community is so freaking supportive and welcoming, and that means so much to me. The worst? That there's only 24 hours in a day! I have so many ideas for new books right now but I can only write one or two at a time.
When you get a chance to read, what books do you love to read?
EVERYTHING! Seriously—I read just about every genre, from romance to paranormal to young adult to the classics. Right now, I'm re-reading Washington Square and I just bought Down To You and The Perks of Being a Wallflower (I feel like everyone's read that one but me). My husband says I spend too much money on books. *Drops voice to a whisper* He may have a point.
If you could share one major writing tip, to help other writers in their quest for publication, what would it be?
Write for yourself—write the story that's true to you and your characters.
If you could write in any other genre what would it be, and why?
Epic fantasy! I love the world-building, and I've always been a bit of a fantasy nerd. Okay, I'm an enormous fantasy nerd. Plus, I'm a HUGE Game of Thrones fan (both the books and the TV show) and George R. R. Martin writes this gorgeous, kick-ass world that keeps me reading until I fall asleep with the book hitting me in the face!
If you had to do it all over again, would you change anything in your latest book?
To be honest, I would have probably made Devoured a
dual point of view novel. Lucas is so guarded and secretive that I think it would have been so much fun (and very frustrating!) to get into his head just a little more!
Let's talk characters. If you could cast an actor/actress for your leads, who would they be and do you have someone in mind as you write your characters?
One of the first things I do when I sit down to write a book is "cast my novel." I like to have a vivid image of my main characters because it helps me so much. For Devoured, I cast Deborah Ann Woll as Sienna. I love her on True Blood as Jessica, and she's got this sexy/innocent/sarcastic vibe that's perfect for Si. When it came to Lucas, I totally pictured Jared Padalecki. I might just be in love with him, but shhh, don't tell my husband!
Ooh, remember that time you've tried so hard to forget? That excruciatingly embarrassing moment, when you wished the floor would open up and swallow you. That time when you blushed fifteen different shades of scarlet. Go on then. Don't be shy. Tell us all about it.
Well . . . I know my mother searches for me on Google, so I'll sum this up in as few words as possible. Naked. Backseat of my friend with benefits SUV (who is now my husband, btw). His dad showing up. Did I mention naked?
I still have a hard time facing his dad without wondering if he's picturing me bare-assed and this was nine years ago! :P
Thank you so much for interviewing me and for being a part of my blog tour. You rock so hard!
Thank you for stopping by...and I promise not to tell anyone about your most embarrassing moment, it will be just between us here.
Sienna Jensen had no plans to return home when she graduated college last spring—after all, her dreams lie in California. But when she discovers her grandmother's Nashville home has been foreclosed, and the new owner has started the eviction process, Sienna has no other choice but go back to Music City. And she comes face to face with the flawed, gorgeous man she never thought she'd see again. The man who now holds the deed to her grandma's estate.

When millionaire rock star Lucas Wolfe finds the outspoken redhead glaring at him from across a courtroom, he's both infuriated and intrigued. He still can't get the night Sienna almost spent with him out of his mind, and the chemistry between them is as undeniable as it was two years ago. He craves Sienna more than ever. And just like everything Lucas hungers for, he's determined to have her.

Now, Lucas will do whatever it takes to lure Sienna into his bed, even if that means making a deal with her: ten days with him, playing by his rules, and he'll hand over the deed to her grandmother's home. Though she agrees to the arrangement, Sienna is conflicted. Because of her duty to her family. Because of promises she's made to herself and a past that still haunts her. And as Lucas's game of seduction continues, and Sienna is introduced to his dark, erotic world and even darker background, she realizes that at any moment, she could be devoured.

*This novel contains adult situations and content*
He doesn't cup my face or touch my hair or anything romantic like that. He roams his hand down my body, over the curve of my hips, until he's between my legs, his palm pressing against my panties. He draws his mouth away from mine. "Fuck me, you're wet," he says. "Say the words."
"Turn around, and play. Same as before and don't stop," he orders.
I expect him to take his hands away from me when I start, but he doesn't. I'm one chord in when his fingers slide under my panties. Three measures when he pushes one finger inside me. I gasp and he growls in my ear.
He slips another finger inside of my body, and then moves his hand, hard and fast. Back and forth until I swear I'm dying. I whimper. He breathes heavily into my hair, and I curve my bottom toward him. He's hard. He's so fucking hard that I'm suddenly grinding against his hand. And the moment his calloused thumb presses on my clit, I come. I slump against the keyboard on my elbows, my ass in the air. I don't have it in me to play anymore, but I don't think he could give two shits. He's staring down at me with his lips pressed into a thin line and all I can think of is how I want them and his tongue on me.
Carefully, he pulls his fingers out of my body, and I shudder again. Though my flesh feels like it's scorching, I manage to stand upright. "No," I say.
"Let's try this the way you're familiar with then: Get the fuck out. I need to work and like I've told you before, you're fucking horrible for music."
Something sharp and prickly twists my chest. He knows exactly what to say to piss me off. I want to tell him he's the dumbass who came up with this arrangement in the first place, but I choke back the words. All he'll do is turn it back on me and remind me why I agreed, throw the deed in my face. I keep my face emotionless and my hands clenched by my sides as I say, "Good night, Mr. Wolfe."
As I leave the room, I become aware that my panties are still pushed aside. And that as long as I'm around Lucas, he'll keep consuming me until there's nothing left.
Oh, this one sounds delicious...and I will be back next week with my review of Devoured, so I will certainly give you the heads up for it then.