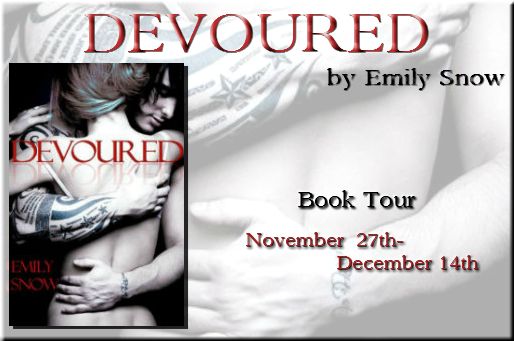 As I said last week, after Emily's interview, I was going to sit down, relax and read this one...take my time, leisurely enjoy the book and give my opinion of it. Anyone who has ever read any of my reviews knows that I give honest opinions, and try very hard to avoid spoilers, and this will be no exception.
For some reason lately, I've been reading a lot of books featuring hot rockers, and this one fits right in with the others I've read. First, a reminder of the book with the blurb and excerpt, then I will get down to my thoughts.
Devoured
Emily Snow
Sienna Jensen had no plans to return home when she graduated college last spring—after all, her dreams lie in California. But when she discovers her grandmother's Nashville home has been foreclosed, and the new owner has started the eviction process, Sienna has no other choice but go back to Music City. And she comes face to face with the flawed, gorgeous man she never thought she'd see again. The man who now holds the deed to her grandma's estate.

When millionaire rock star Lucas Wolfe finds the outspoken redhead glaring at him from across a courtroom, he's both infuriated and intrigued. He still can't get the night Sienna almost spent with him out of his mind, and the chemistry between them is as undeniable as it was two years ago. He craves Sienna more than ever. And just like everything Lucas hungers for, he's determined to have her.

Now, Lucas will do whatever it takes to lure Sienna into his bed, even if that means making a deal with her: ten days with him, playing by his rules, and he'll hand over the deed to her grandmother's home. Though she agrees to the arrangement, Sienna is conflicted. Because of her duty to her family. Because of promises she's made to herself and a past that still haunts her. And as Lucas's game of seduction continues, and Sienna is introduced to his dark, erotic world and even darker background, she realizes that at any moment, she could be devoured.

*This novel contains adult situations and content*
Excerpt:
He doesn't cup my face or touch my hair or anything romantic like that. He roams his hand down my body, over the curve of my hips, until he's between my legs, his palm pressing against my panties. He draws his mouth away from mine. "Fuck me, you're wet," he says. "Say the words."
"Turn around, and play. Same as before and don't stop," he orders.
I expect him to take his hands away from me when I start, but he doesn't. I'm one chord in when his fingers slide under my panties. Three measures when he pushes one finger inside me. I gasp and he growls in my ear.
He slips another finger inside of my body, and then moves his hand, hard and fast. Back and forth until I swear I'm dying. I whimper. He breathes heavily into my hair, and I curve my bottom toward him. He's hard. He's so fucking hard that I'm suddenly grinding against his hand. And the moment his calloused thumb presses on my clit, I come. I slump against the keyboard on my elbows, my ass in the air. I don't have it in me to play anymore, but I don't think he could give two shits. He's staring down at me with his lips pressed into a thin line and all I can think of is how I want them and his tongue on me.
And my mouth on him.
Carefully, he pulls his fingers out of my body, and I shudder again. Though my flesh feels like it's scorching, I manage to stand upright. "No," I say.
"Let's try this the way you're familiar with then: Get the fuck out. I need to work and like I've told you before, you're fucking horrible for music."
Something sharp and prickly twists my chest. He knows exactly what to say to piss me off. I want to tell him he's the dumbass who came up with this arrangement in the first place, but I choke back the words. All he'll do is turn it back on me and remind me why I agreed, throw the deed in my face. I keep my face emotionless and my hands clenched by my sides as I say, "Good night, Mr. Wolfe."
As I leave the room, I become aware that my panties are still pushed aside. And that as long as I'm around Lucas, he'll keep consuming me until there's nothing left.
Devoured is a bit of a challenge to read and review. I want to say so much, but I don't want to give away the things that make this such a compelling story. The characters, both Lucas and Sienna, are not just one dimensional characters. Lucas Wolfe is the quintessential rock star, but there is also something vulnerable about him, in spite of his seemingly dominant and controlling facade. At first glimpse, Sienna seems to be the good girl, the one everyone takes advantage of because she lets them do it. But there is more beneath their carefully crafted fronts, and this story shows what has made them who and what they are.
When Sienna goes to Tennessee to help her Gram fight to keep her house, the last person she expects to be causing this heartbreaking problem is Lucas Wolfe, rock star and the one man Sienna said 'No' to a couple of years before. When Lucas suggests a way for Sienna to earn back her Gram's home, with no sex involved, will Sienna take the chance, or will she let the past color all of her future? Can she learn the lesson Lucas is trying to teach her...that it is okay to stand up for yourself, but there is also a time to submit to others, when it really matters?
The supporting cast her is every bit as engaging as our star players. Lucas' sister Kylie, Sienna's California friend Tori, and even Gram and Sienna's brother Seth add to the overall enjoyment. Each of these characters brings a new angle, or a new challenge to Sienna, and I enjoyed watching her grow into the strong and independent woman Lucas saw in her.
If there is anything I was less than happy with, it was that not all of the problems were completely resolved by the end of the story. I would have loved a bit more background on why Seth is like he is - after all, both he and Sienna shared the bad times growing up, so I thought he should have been a bit less judgmental of her. And the only other complaint...well not really complaint but I just wish the situation with Lucas' ex would have been resolved at the end.
This is one I couldn't put down once I got started. It is fast paced, and I looked forward to what would happen next between Sienna and Lucas. I do recommend this one for all of those rock music fans who just don't get enough of those hot bad boys.
Emily will be giving away one e-book of DEVOURED at every blog stop. A grand prize of a $100.00 gift card will be awarded at the end of the tour to one winner. In order to be entered in the grand prize, the followers will need to fill out the PunchTab form.